Dear valued Heritage Hill Nursery, Inc. Customer,
Spring is officially here!! Unfortunately, so is the start of road construction projects. For those customers that have physically visited our Garden Center, you know that our property is near the intersections of Pleasant Valley Rd, Hwy NN (aka Washington Ave.) and Granville Rd (aka Hwy Y). Over the years, that intersection has been the source of numerous accidents ranging from minor to fatal. It had been decided last year to put up stoplights and then close down the small section of Pleasant Valley Rd that intersects Hwy NN, next to Weir Financial.
The project will begin Monday the 10th with the estimated completion date, sometime in September. What this will mean for our customers that use either Hwy I to connect to Cedar Sauk or Pleasant Valley; or Granville Rd (aka Hwy Y) to Hwy NN (aka Washington Ave) or Pleasant Valley Rd; or for customers taking Hwy NN (aka Washington Ave) out of Cedarburg to Pleasant Valley Rd, will be caught in the detour.
Below is a picture of the detour. If planning on visiting the Garden Center during this time, please refer to the map and to find the best alternate. According to Google Maps, the detour as listed will re-route customers an additional 4.9 miles / 6 mins. from the closed intersection.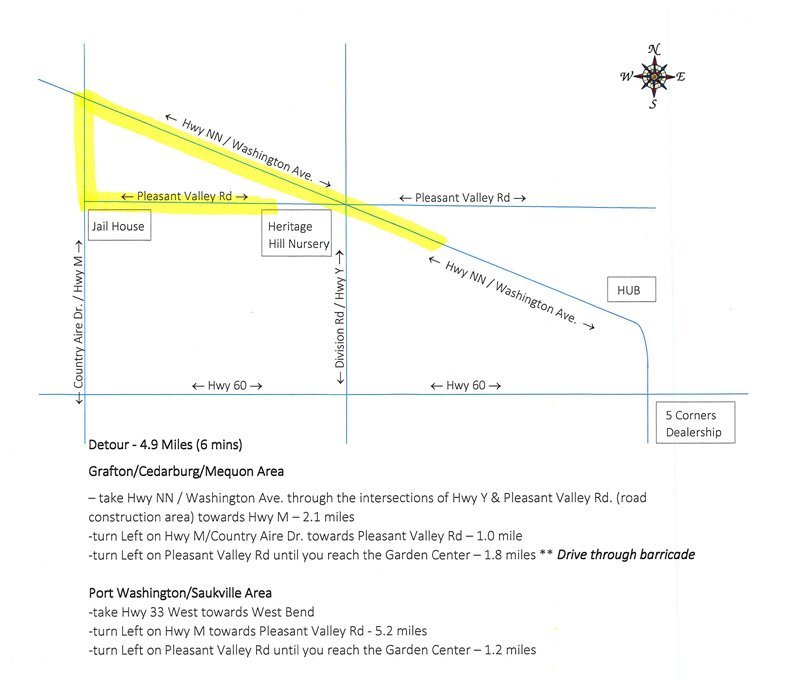 Construction is always a pain, but the end results are often worth it and in this case having a safer corner, reduced speeds, and less accidents, will be worth a little hassle.
Sincerely yours,
Donna Pederson
Heritage Hill Nursery, Inc.