Special Offers!
Your Garden Center in Cedarburg, WI! Check here often for special web offers for garden center items and other discounts!
September is Almost Here! 
Is it really September?  Summer is nearing the end, but that sure doesn't mean that garden time is over.  Enjoy your gardening hobby this September by taking advantage of our very special offer for Water Fountains!  Heritage Hill Nursery is offering 25% off of all Water Fountains. Simply print the coupon to the right and present at the time of purchase!
Additionally, we're offering an incredible deal for select varieties of potted trees.  Just ask one of our on site associates for details. Add a lovely privacy row for your yard, or include a maple for brilliant fall color.  For September these select variety of potted trees are 25% off!   And of course, autumn is the perfect time to start planting those trees to allow the roots to get firmly established before the winter. They are such a wonderful addition to any yard. 
Be sure to check our Seasonal Tips for more info on fall planting and all kinds of helpful information to keep your yard and garden looking simply beautiful!
Questions about planting, feeding and watering? Take advantage of our knowledgeable horticulturist & owner, Jason. He is here to help you make good decisions on what will work best and how to properly tend to your new plantings. Visit the Heritage Hill Nursery and garden center now! We are conveniently located, close to Cedarburg, Jackson, West Bend, Slinger, WI.
25% off all Water Fountains!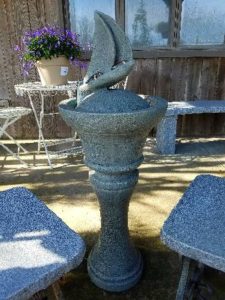 AND
25% off (select varieties)
Potted Trees
Throughout September