Special Offers!
Your Garden Center in Cedarburg, WI! Check here often for special web offers for garden center items and other discounts!
DEEP DISCOUNTS!!
End of season means real savings for our gardeners.  
All perennials (**except Mums, Hostas, Kale & Daylilies) on sale at 35% off (no coupon required). Fall has distinct planting benefits. Autumn's cooler air temperatures are easier on both plants and gardeners. The soil is still warm and there is time to allow the roots to develop before the freeze.  Some good ideas include: daffodils, hyacinths, or peonies.
Additionally, we are offering ball & burlap trees at 35% off! To make our deals even sweeter,  we also have set up a clearance table with all plants at 50% off! Can't beat that!  (** Please note that sale items are not covered under warranty.)
These offers are good through October! 
See you this Fall!  Check our Seasonal Tips blog for more about planting perennials in Fall. 
Questions about planting, feeding and watering? Take advantage of our knowledgeable horticulturist & owner, Jason. He is here to help you make good decisions on what will work best and how to properly tend to your new plantings. Visit the Heritage Hill Nursery and garden center now! We are conveniently located, close to Cedarburg, Jackson, West Bend, Slinger, WI.
REMEMBER – OUR FALL SPECIALS
ARE GOOD THROUGH THE END OF OCTOBER!
50% Off our Clearance
Table Plants!!! (while supplies last)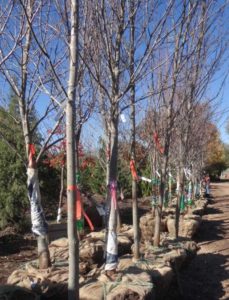 35% off Ball & Burlap Trees!
Through OCTOBER!
35% off Perennials
(some exclusions –
see below)