Lilacs are hardy, easy to grow, and low maintenance. They can grow from 5 to 15 feet tall, depending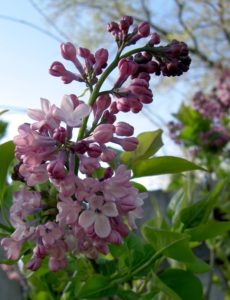 on the variety. The fragrant flowers are good for cutting and attractive to butterflies.
Planting
Grow lilacs in fertile, humus-rich, well-drained, neutral to alkaline soil (at a pH near 7.0). If your soil is in poor condition, add compost to enrich.
Select a site where your lilac will get full sun—at least 6 hours. If lilacs don't get enough sun, they will not bloom well.
Make sure the site drains well. Lilacs don't like wet feet and will not bloom with too much water.
Plant in either spring or fall.
Transplanting lilacs from a nursery is easy. If it's container-grown, spread out the roots as you settle the plant into the ground; if it's balled or burlapped, gentle remove it and any rope before planting. Set the plant 2 or 3 inches deeper than it grew in the nursery, and work topsoil in around the roots. Water in. Then fill in the hole with more topsoil.
Space multiple lilac shrubs 5 to 15 feet apart, depending on the variety.
Read More *Courtesy Old Farmers Almanac