In the Spotlight
The garden center at Heritage Hill Nursery is stocked with many different varieties of plants and trees that is sure to meet almost everyone's landscaping needs, from the new and exciting to the everyday classics.  As our newest addition to the website, each week we will be showcasing one of these fabulous finds on our very own "Featured Spotlight". 
Along with our special offers and seasonal garden and lawn tips, visit here often to consider additional ideas for your own garden and ways to beautify your outdoor living space! 
Mariachi™ Salsa Helen's Flower
Helenium 'Salsa'
Plant Features – Good for Cutting
Height: 18-20″
Spread: 20-24″
Shape: Upright rounded
Foliage: Green
Fall Foliage: Insignificant
Exposure: Full Sun
Zone: 3-9
A unique development in Helenium, 'Salsa' produces one of the brightest red colors available. Compact and upright in habit, it is completely loaded with blooms in fiery vibrant colors of red, orange and gold mid to late summer. Strong stems hold the flowers up above the foliage which can be cut back after the flowers fade to encourage a second flush of blooms. Spice up your summer perennial garden with this lively variety.
Read More
10/15/18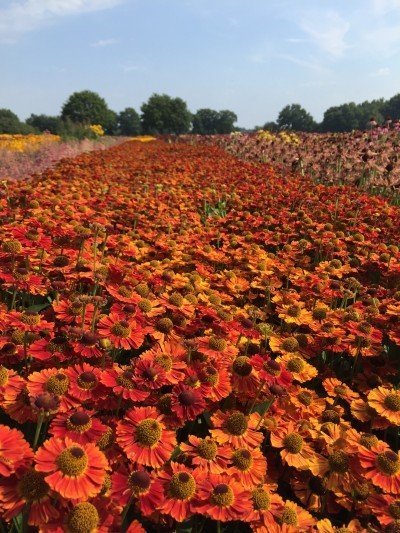 Sunsparkler® Firecracker Sedum
Plant Features – Drought Tolerant
Height: 6″
Spread: 18″
Shape: Front of border
Foliage: Shiny cherry-red
Exposure: Full Sun
Zone: 4-9
Colorful, glossy burgundy-red foliage on a tidy compact habit. Foliage provides a nice background to the medium pink flowers that explode in August, remaining for nearly four weeks. Ultra-tough groundcover sedum stands up to hot, dry conditions and can be used in a multitude of uses including mixed container plantings, edging along walkways and green roof gardens
More Info
9/25/18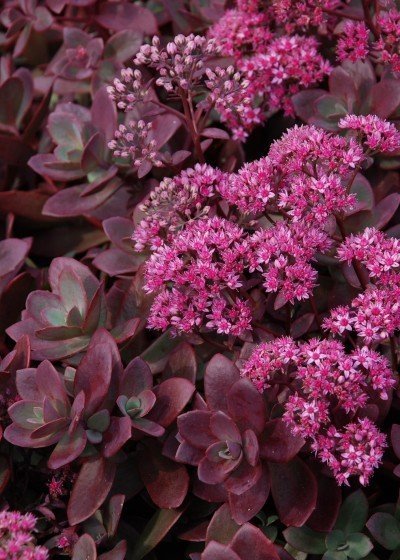 Jack Frost Siberian Bugloss
Plant Features – blooms spring 
Height:  12-15″
Spread:  12-18″
Exposure:  Part Shade
Zone:  3-8
The leaves of this beautiful new cultivar are silver with green venation all season long. It blooms in early spring with classic forget-me-not type blue flowers. One of its common names, False Forget-me-not, refers to the intense azure flowers. 'Jack Frost' is a standout variety with silvery leaves veined and outlined in green. Best in shady situations, mixed with hostas, astilbe and other shade lovers. Mass plant to form a groundcover or as an individual accent. Also called Brunnera this plant is at home in woodlands or along a shady stream bed, where it will form a lush understory of quiet beauty. 
Learn More
9/13/18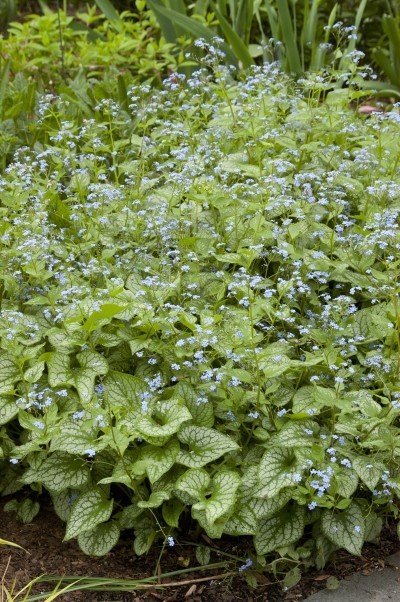 Sunburst® Honeylocust
Plant Features – Deer Resistant –Drought Tolerant
Height: 35′
Spread: 30-35′
Shape: Irregularly rounded
Foliage: Bright, golden-bonze to green
Fall Foliage: Golden yellow
Exposure: Full Sun
Zone: 4-7
The Sunburst Honeylocust make lovely front yard specimens, and a few planted along the street would also draw attention.  The light green leaves and open canopy will create the charming effect of dappled sunlight in your yard rather than the full shade that more dense trees provide.  This variety gives all the benefits of a Locust tree without the thorns (that can be quite sharp), and the seed pods (that can be messy), that other Locusts have.  The foliage provides a tropical, fern-like appearance and will feel pleasantly soft and smooth as you run the leaves through your fingers.   Small green-yellow flowers form in the spring and into early summer but aren't very showy. Bees and other pollinators will love the Locust in your yard though and make good use of those early blooms.
More
9/6/18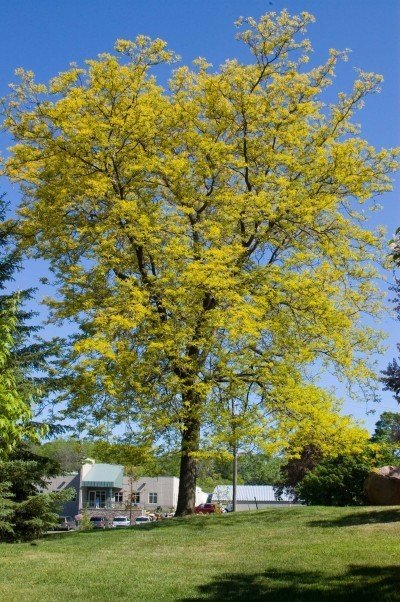 Northern Catalpa
Plant Features 
Fragrant
Drought Tolerant
Height: 50-60′
Spread: 35-40′
Shape: Upright, oval
Foliage: Green, heart-shaped
Fall Foliage: Yellow-green
Exposure: Full Sun
Zone: 4-7
Catalpa is a Midwest native tree, with a narrow, open, irregularly rounded crown, spreading branches, and twisting trunk. White, showy flowers. Giant heart-shaped leaves. Dangling bean-like seed pods. This fast-growing tree has few branches at an early age. Does best in full sun in well-drained soil.
More Info
8/29/18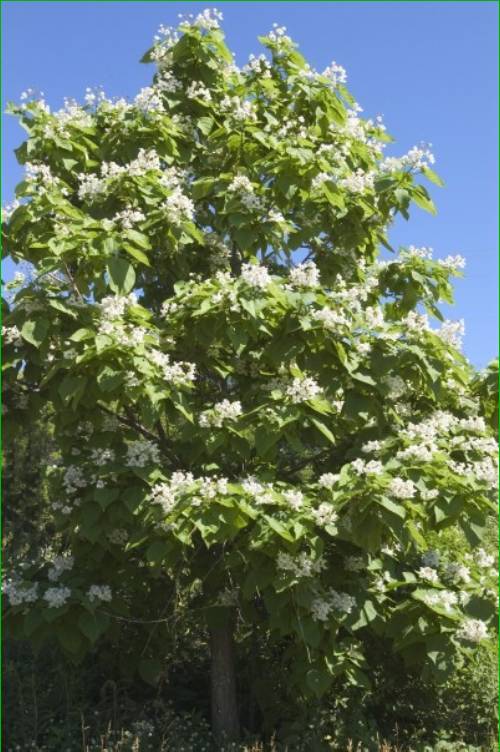 Easy Elegance® Mystic Fairy® Rose
Plant Features
Good for Cutting
Height: 3-4′
Spread: 3-4′
Shape: Upright rounded
Foliage: Dark green
Fall Foliage: 
Exposure: Full Sun
Zone: 4-9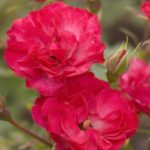 Irresistible blooms of rich red with pink undertones carpet the plant in massive clusters all summer long. New foliage is glossy red, which slowly gives way to dark green mature leaves, a striking complement to the blooms. This compact, vigorous shrub rose is crown hardy to zone 4 and resistant to both blackspot and mildew. Mystic Fairy® has sterile flowers, produces no hips and doesn't know how to quit blooming.
Care & Info
8/22/18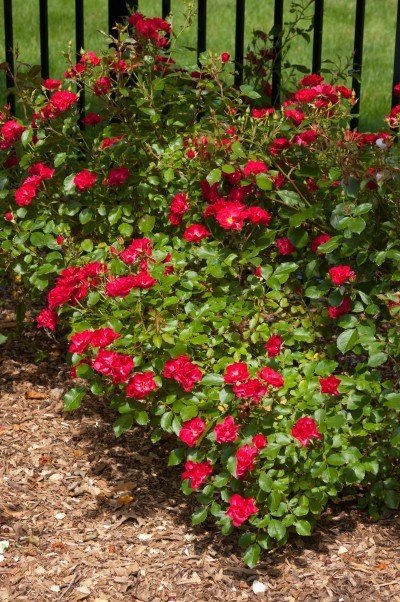 Sarah Bernhardt Peony
Plant Features
Fragrant , Good for Cutting, Deer Resistant, Drought Tolerant
Height: 3′
Spread: 5-3′
Exposure: Full Sun
Zone: 3-7
Huge, double pink blooms are displayed on the bold, erect stems of this clumping perennial. An excellent background plant for spring bulbs or use in perennial or shrub borders. Stunning in floral arrangements. 
Care & Info
8/8/18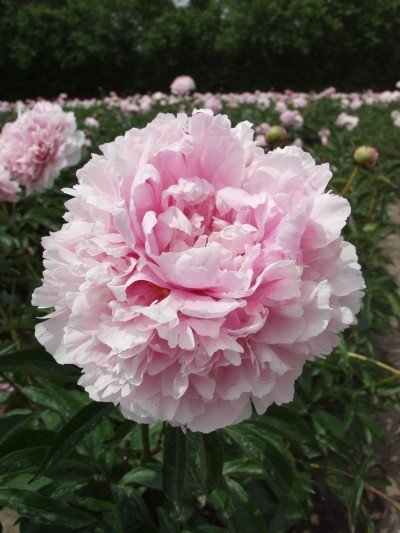 First Editions® Gladiator™ Crabapple
Plant Features
Drought Tolerant
Height: 20′
Spread: 9′
Shape: Upright
Foliage: Bronze-purple
Fall Foliage: Purple
Exposure: Full Sun
Zone: 2-8
Gladiator™ is an excellent ornamental tree with a profusion of bright pink flowers followed by small reddish-purple fruit on a stately, upright crown. Glossy bronze-purple leaves are darker and glossier than Purple Prince, remain lush all season long and are highly disease resistant. Gladiator is an ideal ornamental tree for space-challenged sites including under power lines, as a small boulevard tree or planted in a row for a screen.
Care & Info
8/1/18 
Niobe Weeping Willow
Plant Features
Moist Location
Height: 50′
Spread: 50′
Shape: Wide, spreading
Foliage: Bright green
Fall Foliage: Yellow
Exposure: Full Sun
Zone: 4-8
One of the hardiest and most beautiful of all the Willows. This fast growing, golden barked tree has a wide spreading canopy and long, golden drooping branches. Extremely graceful prefers moist planting sites.
Care & Info
7/26/18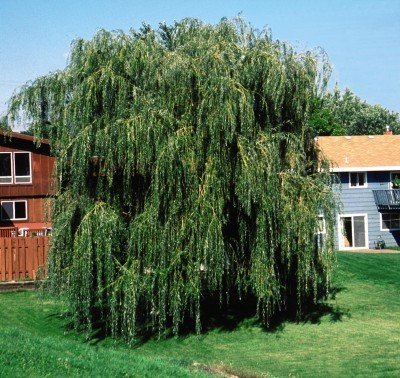 Lo Scape™ Mound Chokeberry
Plant Features
Drought Tolerant
Height: 1-2′
Spread: 2-3′
Shape: Mounded
Foliage: Dark green
Fall Foliage: Red & orange
Exposure: Full Sun to Part Shade
Zone: 3-9
As cute as a button yet tough as nails, this innovative dwarf aronia may be the closest thing yet to a perfect landscape plant. Adaptable to most any soils, this little beauty offers dark glossy foliage, loads of white flowers in spring, black summer fruit, and intense red foliage in autumn. Ideal for low-maintenance, appealing mass planting. Native.
Care & Info
7/11/18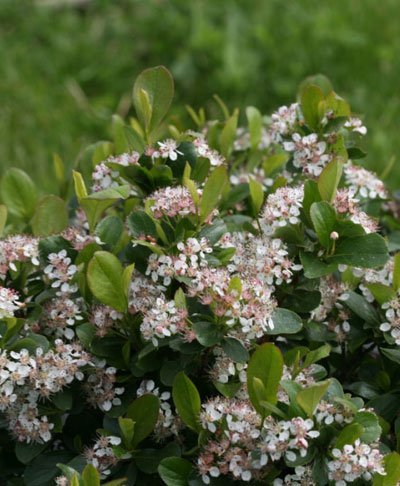 Dark Towers Beardtongue
Plant Features (Also know as Dark Towers) 
Good for Cutting
Height: 33-36″
Spread: 30″
Foliage: Wine-red
Exposure: Full Sun
Zone: 3-8
Glossy bronze-red leaves on deep red stems, topped by masses of tubular light pink flowers that will add rich, contrasting color to borders, meadows and naturalized gardens. Tolerates high heat, humidity, and periodic dry spells, when established. Easy to grow and perfect for a sunny, minimal care landscape. Dark Towers retains its dark wine-red foliage throughout the season and produces pale pink tubular flowers that extended above the foliage. Adding rich color to the perennial border or mixed beds, this perennial will tolerate heat and humidity.
Care & Info
6/22/18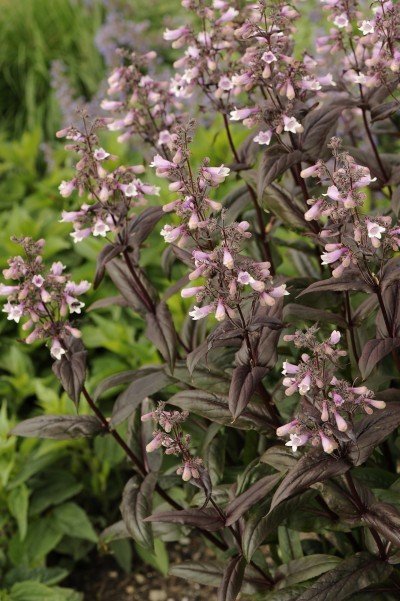 MN Strain Redbud
Plant Features
Good for Cutting
Height: 20-30′
Spread: 20-25′
Shape: Vase-shaped
Foliage: Deep green
Fall Foliage: Brilliant yellow
Exposure: Full Sun
Zone: 4-9
Sometimes called the Eastern Redbud, the most useful type of redbud in northern gardeners is the 'Minnesota Strain', which was developed at the Minnesota Landscape Arboretum to survive through our tough winters. Depending on the type of spring we have, Redbuds can bloom as early as mid-April and as late as late May. They are usually one of the first trees to flower in the landscape and the blooms linger for several weeks. Redbuds are not particularly fussy as they can handle full to partial sun (in the wild, it is an understory tree), and can tolerate a variety of soil types. It does not tolerate salt well, so you may want to plant your redbud closer to the house and not near the street where salt spray occurs. It likes well-drained soil of average moisture.
6/13/18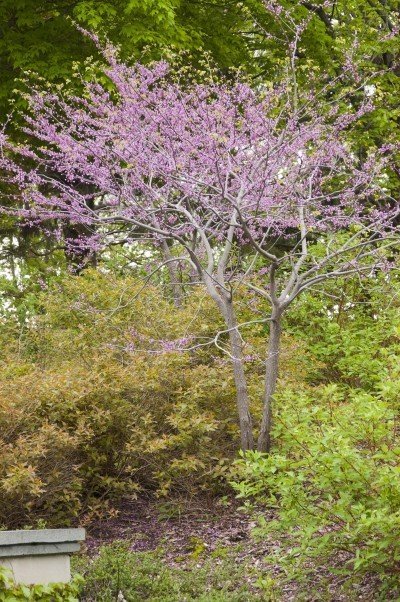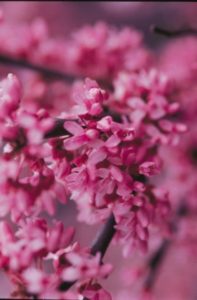 Bloomerang® Lilac
Plant Features
Fragrant, Good for Cutting
Height: 4-5′
Spread: 5-6′
Shape: Mounded
Foliage: Medium green
Fall Foliage: Insignificant
Exposure: Full Sun
Zone: 3-7
Enjoy classic lilac fragrance for months instead of weeks. A revolutionary new lilac, Bloomerang blooms in spring and then recurrently throughout summer. While traditional lilac varieties bloom for a few short weeks in spring, Bloomerang's fragrant flowers appear recurrently until frost. This compact, mounded variety fits easily into any landscape, and is ideal as a foundation planting or as part of the mixed border. You can even include it into perennial beds.
https://www.baileynurseries.com/
6/7/18 
Tomato Soup Coneflower
Echinacea purpurea 'Tomato Soup'
Plant Features ~Fragrant ~Good for Cutting
Height: 26-28″
Spread: 24″
Shape: Upright
Foliage: Dark green
Exposure: Full Sun
Zone: 4-9
Blooms the color of tomato soup hold that delicious color for 7 to 10 days before they begin to soften, thus giving us a kaleidoscope of colors held on sturdy, well-branched stems making terrific cut flowers for your bouquet.  The spicy fragrant blossoms bloom all summer and well into fall, attracting a multitude of birds, bees and butterflies.